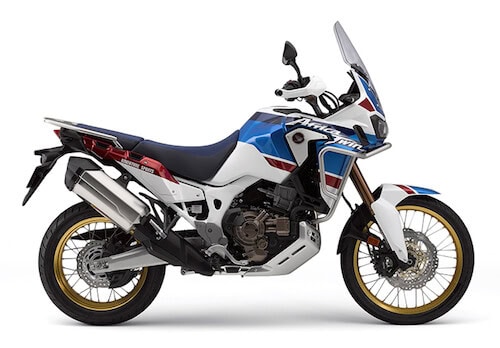 Rent the Honda Africa Twin Adventure 1000
A motorcycle to travel many kilometres
It offers a range of 500 km in each refuelling, thanks to its larger tank. In addition, it has higher suspensions and the special decoration of the original Africa Twin, launched three decades ago.
Rental days

Price

1 to 3 days

158€ / day

4 to 6 days

128€ / day

7 to 13 days

113€ / day

More than 14 days

107€ / day

Weekend, from Friday 6pm to Monday 10am

316€ / weekend

Low season (November to February)
From 2 days of rental

-20%
Happy customers
Hundreds of customers have rented the Africa Twin for their trips. We love their happy faces and smiles when the bikes are returned.  
Reliability and equipment
Honda motorcycles are reliable. When travelling it is as important to go as to return without problems. In addition, for greater comfort on long trips it has other equipment details such as heated cuffs and a higher screen.
Aluminium topcase and side cases included
We rent motorcycles ready to travel. That is why we equip our Africa Twin Adventure with metal topcase and side cases, included in the rental price. They offer about 130 litres of capacity so you don't have to worry about your luggage.
Motor fenders and fairing
Our rental Africa Twin Adventure have motor fenders in addition to its original fairing defence for your peace of mind. Damage in standstill falls or at low speed is avoided with defences.
Height adjustable seat
The Africa Twin Adventure is a tall motorcycle, as it has larger suspensions than the original. It also has an ingenious system to adjust your seat to two different heights, without tools. Thanks to this, accessibility for many drivers is improved.
A motorcycle to enjoy on all roads
Our clients have made long trips with the Africa Twin Adventure, from North Cape to Morocco, through Pyrenees, Alps and Eastern Europe. A versatile motorcycle with which you can enjoy all kinds of roads, from small districts with asphalt in poor condition to fast highways. A motorcycle for all types of asphalt.
Requirements
For Spanish customers, motorcycle driving license:
- 'Motorcycle license ''A1'' or car licence ''B'' older than 3 years. (Without the need of a motorcycle license): Honda Monkey 125.
- "A2" motorcycle driving license for the CRF250L, CRF250Rally, CB500X or the CMX500 Rebel.
- Motorcycle driving license ''A'' for the rest of the motorcycles.
For international customers, motorcycle driver cards that are valid for circulation in the EU.
DNI for Spanish customers and passport for clients from the rest of the world.
Experience in driving motorcycles.
Minimum age:
- 21 years for the motorbikes until 500cc.
- 23 years for the rest of the motorcycles for rent
Credit or debit card.
Terms
The rentals are counted for full days until 19 hours, which is the maximum return time of the motorcycle.
Depending on the availability, the delivery is facilitated the afternoon or the return the next morning.
You can travel with the motorcycle freely by the member countries of the European Union. Consult conditions for the rest of Europe and Morocco.
The reservations are confirmed with the receipt of the first payment.
Forms of payment; with credit / debit card, bank transfer or international money remittance agencies.
All inclusive
All prices include 21% VAT.
The motorcycles have protective defenses and luggage systems prepared for long trips.
300 kms per day are included in rentals of up to 6 days. After 7 days, the rental agreement includes unlimited mileage.
Motorcycles have full-risk insurance with a franchise, depending on the bike:
- 800€ on the Honda Monkey and the Honda CRF250 range.
- 1.00€ in the Honda CB500 range.
- 1.500€ in the BMW range, the rest of the Honda range and all the Yamaha range.
Roadside assistance 24 hours during the motorcycle rental.
We keep your luggage or motorcycle in our premises while traveling.